Oh Philadelphia, how green were your fields?
Not very.
This game started out all scary and then turned out to be a gigantic kitten.
And not just any kitten.
A kitten wearing
people clothes
.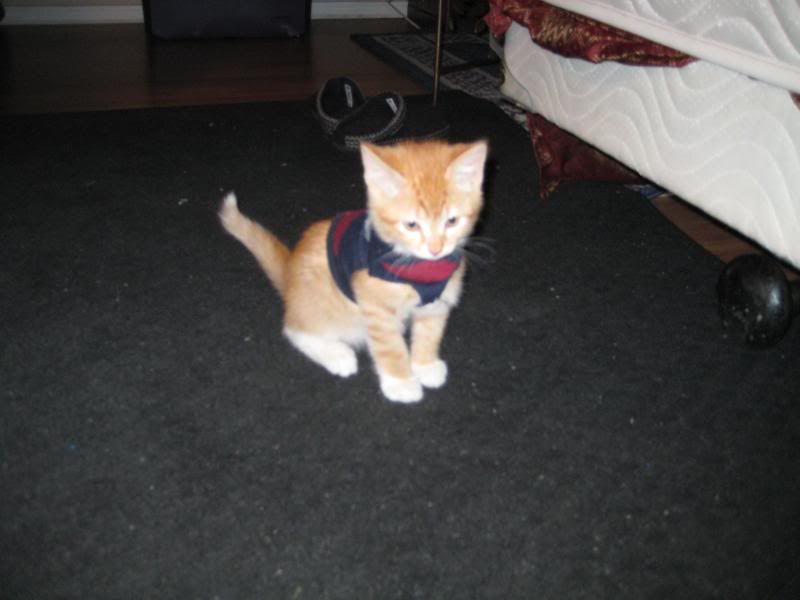 WHEN WILL KITTENS LEARN THAT THEY HAVE NO BUSINESS BEING IN SWEATERS?
Ugh.
Anyway, let's get to the awards before this gets anywhere worse.
AWARD KIM IS LEAST EQUIPPED TO GIVE OUT
Apparently Arron Asham and Scott Hartnell have greasy, hairy dude sex on the ice before I can even get my shit together enough to turn on my television.
This is what it looked like, allegedly.
I have no personal experience to say if it is accurate.
It could be completely photoshopped, for all I know.
FEISTIEST GOALIE AWARD
Maf passes to his defenseman and Giroux is like "EXCUSE ME WHILE I TOUCH YOU AND JUST HANG ON WHILE YOU TRY TO BEAT ME OFF."
Maf doesn't understand.
"LOLOLOL SIR YOU ARE ON MY ARM COULD YOU NOT DO THAT MERCI"
Maf gets an extra juicebox at intermission for his trauma.
AWARD THE PRESS IS LEAST EQUIPPED FOR US TO GIVE OUT
Claude Giroux goes to the box for his crimes.
We get nothing done. Like, NOTHING.
It's depressing and we all cry about it and look up more kittens in sweaters to calm ourselves.
Finally we get some scrambling by the Flyers net. Billy and Poni can't quite make it happen.
Finally, Kunitz makes it happen.
MAF gets an assist.
THE PRESS DOES NOT.
KITTY WHY ARE YOU IN A SHARK SWEATER OMG YOU HAS A FIN.
Okay, we are more calm now.
Bring on the 2nd period.
MOST UNCOMFORTABLE CALL
Simon Gagne scores.
Meanwhile, MAF is being raped by Ville Leino.
NOW NOW NOW don't get us wrong, but our faces were similar to the faces on the Flyers' bench when we saw that the play was being "reviewed" (okay, not REVIEWED, but talked about in detail after the fact.)
Say what, homes?
We're not saying we think the Flyers deserved this goal.
Nope, not a chance.
But we ARE IN FACT SAYING that to call it off was just a little bit bullshit.
If that were US, in that same situation, we would have been up in arms over it.
As is, we'll take it. But not without noting that it was sort of ridic.
MORE THAN A FEEEEEELINGGGGG
Cappy hits the puck into net-land, but it can't quite make it across the threshold.
Dupes carries it across like a bride still in her gown.
And then the love happens.
Oh my.
Boys.
Can we keep this to the locker room?
Lest anyone cease to be afraid of Cappycakes, REMEMBER THIS:
THE FEAR IS REAL.
THE WUT AWARD
Brian Boucher is in net for the Flyers all of a sudden.
We're a little lost.
Pulling Backlund at 2-1? This has to be injury based, right?
Right.
Right?
WOULD EVERYONE STOP BEING SO SHADY AND JUST TELL US?
We think that he was just crying wolf because he wanted us to believe that those goals were let in simply because he was not "on top of his game."
Mmmmhmmmm sir.
Tell it to this guy.
He doesn't fuckin' buy it.
THE OMNOMNOMNOM AWARD
We're not sure what way all of this is going to go.
Until, that is, Feds hands the puck to Mattie Cooke, who promptly puts it home.
Mattie Cooke scored?
This game = pwned.
LEAST PRESS PARTICIPATION, PART TWO
Cappy and Feds strike fear into the hearts of Philly fans as they drive the final nail into the coffin.
Press hadn't yet caught wind that hockey was being played today.
They won't until around five pm tomorrow. Just in time to miss that game.
We can't imagine how Philly fans felt EXACTLY as the score that was once 2-1 in their favor had somehow become 4-1 in ours.
But we imagine a sweatered cat can help illustrate.
(
ominous voice from above:
FINISH HIM!)
(
ominous voice from above:
K-O!)
PENS WIN
4-1
SUCKASSSS
INDIVIDUAL AWARDS
LIKE SYRUP OVER HOT WAFFLES
The only difference is that Max Talbot gets mildly less excited over this.
ALT THREE STARS
1)
Refs
- Where the fuck where your minds? We love it.
2)
Cats of the world
- For making the world better for all of us, especially MAF.
"LOLOLOL WHY IZ ZHAT KITTIE IN A RAIN JACKET LOLOLOLOL ZHOSE ARE PEOPLE CLOTHEZ YOU CANNOT WEAR ZHEM LOLOLOLOL WANT TO SHARE MY JUICEBOX WITH ME?"
3) Me -
I win.
GAME TOMORROW
BE THERE OR BE somewhere else.
GO PENS