Today we tag along for
A SATURDAY NIGHT IN WITH SIDNEY CROSBY

Our film crew had asked Sid if he wanted to do anything in particular for his everyday task, but he insisted that we just come over on Saturday night to "hang out." We show up at the Lemieux residence, but the family appears to be elsewhere for the evening. Sid answers the door and promptly shows us to the living room, where he picks up the phone, saying, "Yeah, sorry, I'm just ordering us pizza!"

"Sorry about that," he says to the pizza people on the other end of the line. "Yeah. Three large pizzas. Extra cheese with sausage." He covers the mouthpiece, and starts to ask us if that's okay for us, and we nod emphatically. PH Documentary Film Crew is not used to this free food treatment. He finishes the order and gives the address, and then sits back down at the couch, where his laptop has been sitting all this time.




"I have iTunes up. I'm getting all of the shows I need to watch--there's a wifi link between my computer and the cable box so it's basically like Tivo. This is our only night off this week so I'm going to make the absolute best of it. Mainly I need to catch up on Gossip Girl. And I'm starting to do Mad Men from season 1. I also have some DVDs of Mystery Science Theater over by the TV."
We turn to the direction that he indicates, realizing that the entire far wall is actually a television. "What do you guys want to watch first?"

We decide on Gossip Girl. The film crew doesn't know what to film and documents a short walking tour of the living room before settling on the screen again. Sid is at least passively aware of the mechanics of the show, interjecting private jokes to us throughout. When we admit that we haven't been following the show that closely this season, he smirks, as if he knows what we're missing.


The pizza arrives 45 minutes on the dot after Sid placed his order. We know because some buzzer sounds deep within the Lemieux Compound. Sid has to walk out to the gate, which he does cheerfully in his shorts and flip flops, and returns with a piece of pizza already half-in his mouth. "I fucking love Pizza Hut," he says. "It's so greasy and disgusting, but I love it. Try to keep this on the down-low."

When we remind Mr. Crosby that in accepting the PH Documentary Film Crew into his home he has waived all expectations of privacy, he sighs, as if he's quite used to this by now.

"Do you guys like ping-pong?" he asks during the Gossip Girl credits.
"Uhh. . .sure?"
"Do you guys have a ping-pong table at your place?"
"No. . ."
"God damn it, I was hoping we could go over there. Mario won't get a ping-pong table. Says it would be too much of a distraction while he's trying to, you know, manage the empire and all."
"Empire?"
Sid giggles, as if we were being facetious, and continues. "Do you guys have any other games at your house? Maybe Clue? I miss Clue."
We tell Sid that we might have Monopoly and Settlers of Catan, but we'd have to go home and check.
"Settlers of Catan? Holy shit! But naw guys. . .don't go through all that trouble for me. . .are you sure you don't want some more pizza?"
We gladly consume extra slices of Sid's sausage pizza, and politely ask Sid if we can take our leave, as it seems to be getting quite late.


"Sure guys! Thanks for coming over! Next time bring your board games!"

We now know how the beautiful people spend their weekends.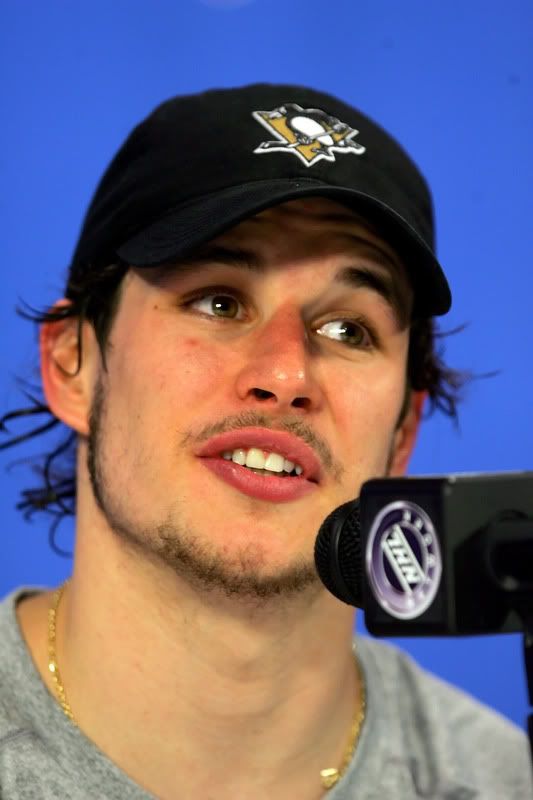 Anyway.
We know we're super late on this, but watch the 11-round Hawks/BJs shootout from a few days ago.

Watch Stevey's rage at the end.
Hookers of Columbus beware.

Oh yeah. . .and Avalanche at Mellon tonight.
We're on it this time, trust us.
We love you.
GO PENS.