How we make it through summer without hard drugs is a mystery for the ages.
Hockey and the news surrounding it paces itself like old men in hats driving Buicks.

Luckily, this time, we have excellent news.
Which is that Our Hero Daniel LaCosta has been re-signed by the Blue Jackets. It's only for a year. He'll probably get so many shutouts next season that Martin Brodeur will start worrying about his job.

50% of games that Dan LaCosta has started in the NHL have ended as shutouts. There are only two, but still.
It's a totally true statistic.
Plus, there's a picture somewhere of him looking snazzy in a puka shell necklace.
If you have this photo, you should e-mail it to us. We've been looking for it for weeks.

Jordy's day with the Cup went public at HHoF today.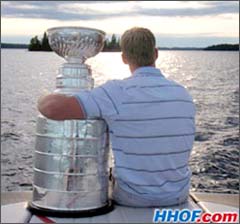 It's a beautiful if selfish love affair.
We hope Sid doesn't pull the whole abusive husband thing when he gets his turn. We get the feeling that Cappy doesn't tolerate cheating particularly well.

Also, in case you didn't know, Max and his bff Bruno have a really special website for their golf tournaments.
There are some really winning pictures of Max that deserve to be displayed prominently to the American public.

He sure likes umbrellas.


Sometimes he has a man come around to hold his for him. You know, when he's busy.


He also often carries a small picture of his own face in case he forgets what he looks like.
Not that that happens often. He's just worried.

Major thx to gendoyon for tipping us off to this beauty.

As a result of these photographs and the circuitous discussion that ensued, we've decided that if Max were a boat he'd be a tugboat.

This tugboat, in fact.

Also, we're sure you all know about Hossa's shoulder surgery. It's old news that we didn't dignify with a post at the time.
What a downer. *insert lols*

Really everything is harder to hate once you've won the Cup.
Not that we have to tell you that.
We just continue to bask in it.
It's not an easy thing to defend but it's fucking July.

WOOOOOOOOOO.
A lonely month, but still.
WOOOOOOOOOOOOOO.

Go Pens!